Oct 31, 2020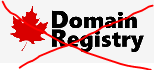 There has been a domain scam particularly in Canada that has been going on for quite awhile. When I was introduced to it taking place and being a person, they also tried to target. I decided it would be best to expose how they try to scam people so that people do not fall prey to them. I have heard stories of people falling for this scam. This post is for the ones that end up landing on this blog post for more info.
Why is this important
Personally, reading all the comments and posts online about these scammers. I feel the right thing to do is to create some awareness, so more people do not fall prey to the scam. There are many innocent victims, who may fall for this scam due to the lack of cyber security awareness. So, lets go out there and educate people and let them know about this scam. Hopefully, it can at least prevent a few people from falling prey to this scam.
What did they do
This organization is sending thousands of letters on an ongoing basis to people. These mailed letters show up at your home or offices and make it seem like it is an urgent matter to address right away. The letter will state a domain name you own, the expiry date of the domain, a section to paste your credit card number, and an envelope the mail the form back.
Read more Of This Post