Apr 27, 2021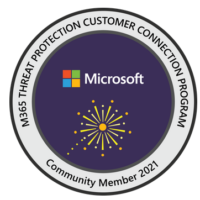 I am super honored to say that I am now officially part of the Microsoft 365 Threat Protection Customer Connection Program as a Community Member!
You can view the official badge & details here -> https://www.credly.com/badges/b6a58efe-386f-43c6-a056-2e1defbf45a6/public_url
I have been extremely fortunate to be able to help drive many of Microsoft's security tools and roadmaps. For those members that are part of the M365 Threat Protection CCP group. They get a chance to contribute heavily to provide feedback on Microsoft Security products. In the end, it helps enhance the security roadmap that Microsoft plans out. Some of the technologies we get to help drive forward and further enhance are listed below.
For example:
READ MORE OF THIS POST